In my own words...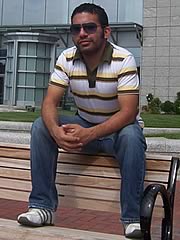 I am Joel Escobar, Geek Extraordinaire. I'm a 41 year-old entrepreneur from Houston, TX. I have over 20 years experience in web development.
I got my start April 1st, 1999 as the "Number Two" to Lawrence Arevalo at Netmio.com. Netmío was Hispanic Broadcasting Corporation's (HBC) network of local radio and city guide websites. It's no secret to those who know me, Netmío deeply impacted my life. I'm a different person today because of my experience there and the relationships it established. As part of the Netmío "family", we built an incredible, unique product that was equally personal for our users as it was for us. Rare for a dotcom of its day (or any day for that matter), Netmío was actually profitable before its life was cut short by the merger of its parent company, HBC, with Univision Communications. January 15th, 2004 marked the end for me and most others at Netmío. The site was slowly wound down over the course of that year before it was permanently redirected to Univision.com. Testament to value of Netmío's local focus, Univision.com has since reimplemented many of Netmío's core features. ...Go figure.
The rest of 2004 continued to mark change for me. I took some time off to do my own thing, got married to Elideth, and bought a house. I ended that year with a job at C4/Omnigroup (now Advent, Inc), a full-service advertising agency. I made some more lasting friendships and learned a lot about how business is done, and not done. Two of my ex-C4 colleagues there went on to found their own successful advertising agency, BrightBox Inc. After leaving C4, I moved on to what would be my last "job", Novatex Solutions, another local agency but with a focus on web development and search engine optimization (SEO). While at Novatex, I improved my existing skills and added several new ones before I could no longer resist scratching my entrepreneurial itch.
As of March 2007, I have been running my own business, Websites-Houston.com, serving the web needs of small businesses in the Houston area. I have long believed small business is under-served on the web. Facing a choice of poor quality or high-prices it is difficult for a small business to effectively operate online. That has lead me to develop several web-based tools and services to make running a business easier and more cost effective. At the core of my offerings are self-serve websites which give business owners access to professionally designed, full-featured websites they can update themselves at a price that they can afford. Also under active development, I have a comprehensive Customer Relationship Manager (CRM) for managing client and project information as well as a Newsletter/Mailing List Manager for sending attractive, trackable email messages to interested recipients. I haven't struck gold, but running my business been a fulfilling learning experience. I have several other projects in the works and not enough hours in the day.
In the words of others...
...he was such a sweet little boy; and so talented. When he was 5, he would do the cutest Michael Jackson impersonation. We entered him in a talent show at our church and he won! We're truly blessed to have him...
---
...before we were married, I thought he was so smart. Boy was I wrong...
---
A passionate lunatic who invests a lot of time getting every little detail working -- and then is unhappy because he just thought of a better way to approach the whole thing.
---
...#2 only in employee number, #1 in our hearts. Joel is the consummate entrepreneur who I know will one day strike gold but might miss it as he is having so much fun on the pursuit that he might just keep looking...
---
His enthusiasm and knowledge of all things web can only be matched by the terribleness of his celebrity impressions.
---
Being a business owner has taught me talented, intelligent, highly creative people are hard to come by. Joel is one of those people. ...He may talk my ear off, but he'll get the problem solved.
---
...probably the most talented web developer I've ever met. He is a true master in all facets of programming and design. Do I trust the guy?
...not really.
---
...Exceptional person of amazing talent and all around ballin status. ...Someone who always comes through in the clutch...
**Not necessarily facts, sometimes correct, barely a dictionary. Is online, however.